Getting Married at St Andrew's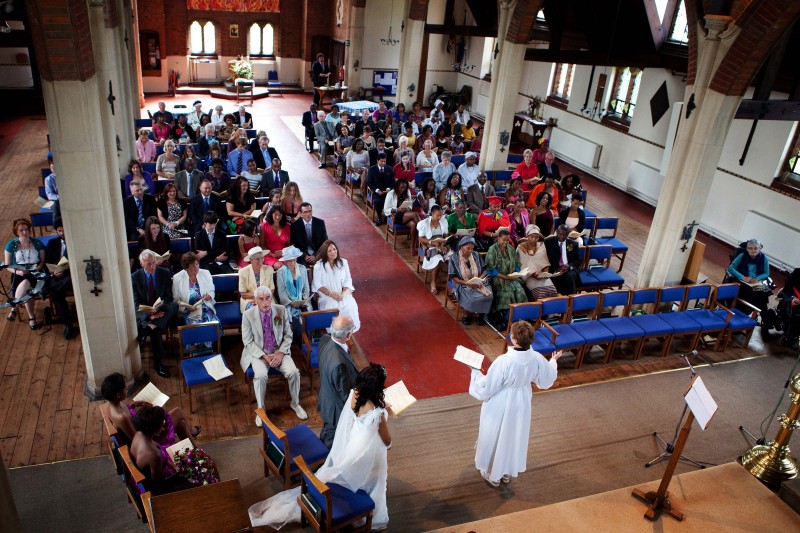 St Andrew's warmly welcomes couples who want to get married.
Getting married is one of the most important events in anyone's life. Saying, "yes, I love that person so much that I want to spend the rest of my life with him or her", is an enormous leap of commitment for anyone to make. We do it because we want to live our lives with someone whom we love. It is something to celebrate not only with your intended partner, but also with friends and family.
Getting married in church is about acknowledging that such an important step in life involves all the support that it can get. That is why our friends and family are there to support us. Perhaps more importantly, we really want the marriage to work and be life long, and getting married before God involves asking him to be in the marriage supporting, sustaining, and loving us. The wedding is not an end but a beginning.
We all want your wedding day to be happy and successful and we pledge to help you as much as we can so that it will be the day you always remember with joy. Also we hope that you can get the whole joyous occasion into the right perspective.
Remember that you are making important and wonderful promises to each other and to God. These, with His help, are for life. But do remember that the church isn't there just for Christmas—or the wedding day. We are here to help you throughout your married lives.
Why Get Married in Church?
When you marry in church the commitment you make is to each other and to God. You decide to get married because of the love that you have for each other, but this love is within
the love of God. In marriage you are declaring your commitment and desire to and love one another for the rest of your lives. To do this, you will need to keep returning the well-springs of love which God supplies.
We are given a pattern for marriage and commitment in the love that Jesus has shown for his people. His self-giving love required that he gave up his life for the sake of those he loved.
For most of us, such sacrifice will not be asked. But love calls us to be generous, to give of ourselves and make smaller sacrifices for others.
By getting married in church you will be making your commitment before God and before the congregation as representatives of the whole people of God. They are to witness to and support you in their marriage; they are not just there as onlookers. When the priest joins your hands together proclaiming "those whom God has joined together let no one put asunder" this is the sign that you are beginning a new life together in the community. This is a public act and one that your witnesses and friends are there to respect and uphold.
Who Can Marry at St Andrew's?
In order to be married at St Andrew's, one of you must have some connection with the parish or be on the electoral roll. If you live in the parish, if you or your parents were baptised or married in the church, or if you have attended church groups here in the past this will be sufficient connection. Come and talk with us.
What if I am Already Divorced?
It is no longer true that the Church of England will never marry a divorced person. We recognise that sometimes things go wrong and people need fresh starts. You will need to talk with Greville, the vicar, and he will explain what to do. Come to the 10 am service on any Sunday and talk with the clergy afterwards.
Planning Your Wedding
Once you have decided you would like to get married there is much to plan. The first person to contact is the parish priest. You will need to book a time to come and talk so that we can sort out preliminaries. You can book a time by coming to the 10 am service on a Sunday and seeing the clergy afterwards.
You will also need to make decisions about music, readings, flowers, a choir, a video, printing the order of service..The clergy are here to help you with all these decisions.
As well as planning the mechanics of the day, we like to offer each couple some special preparation time in which to reflect together on what marriage means to you, the promises you will make, the values and priorities at the heart of your relationship and the resources on which you can draw to keep those promises in good times and in bad. As the big day
approaches and you feel the stresses of guest lists, flowers, speeches, dress fittings, accommodation, and family logistics it is often a welcome space in which to come back and focus on why you are doing all this.
There will also be a 45 minute rehearsal in the week of the wedding. Banns, Licences, and Fees. Before anyone can marry they need to prove that they are legally free to do so. There are two ways of doing this: by banns, or by licence. The clergy will help you find the right way for you. For British citizens resident in the parish banns will be the usual method. At St Andrew's we call banns at the 10am service on the first three Sundays of the month before your wedding. You and your family are particularly welcome at theses services, but we would encourage you to come regularly anyway. This will help you see and be part of the living church in whose building you will be married.
For holders of non-UK passports it is usual to proceed by common licence which involves a visit to a legal officer of the church with your documents and where you will swear an affidavit that you are legally free to marry. Sometimes we will need to send you to the Brent registrar to get a superintendent's certificate

If having read the above you would like to proceed with an application to get married you should come to church on a Sunday morning at 10.00am and see Greville, our Vicar, afterwards.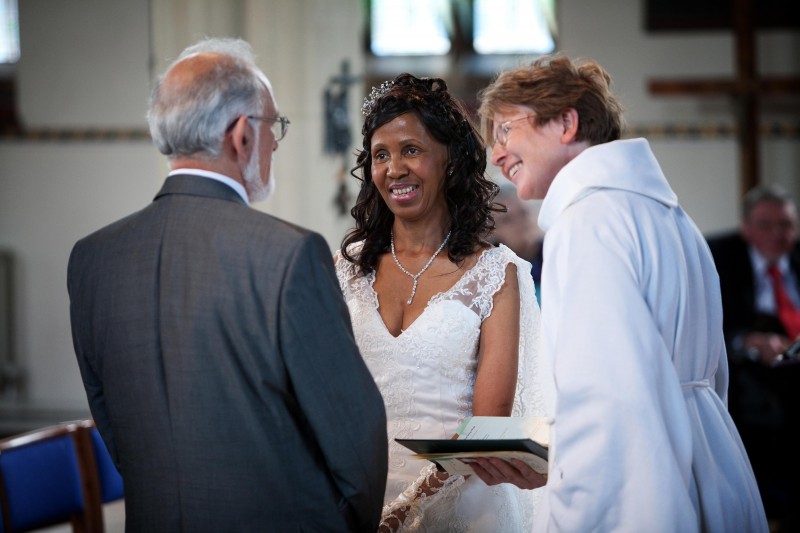 I, N, take you, N,
to be my wife / husband,
to have and to hold
from this day forward;
for better, for worse,
for richer, for poorer,
in sickness and in health,
to love and to cherish,
till death us do part;
according to God's holy law.
In the presence of God I make this vow.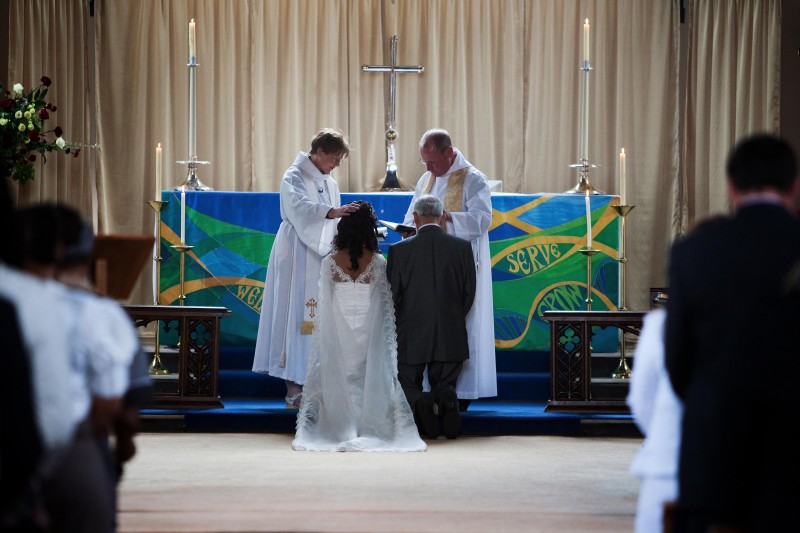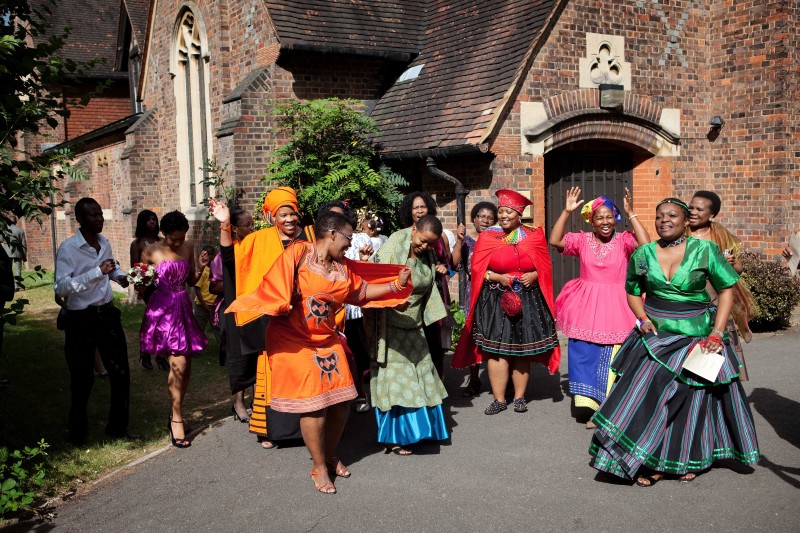 Wedding photography by Neil Sampson Photography
Tel: 01442 506 331 or mobile 07957 374 813