We welcome children and young people of all ages at St. Andrew's on Sundays and at other times in the week. There are activities for all age groups both on Sundays and weekdays. Our children's church up to age 11 and youth church for high school age run during the main part of the 10am Sunday service. We also welcome mums and dads with babies and toddlers, providing a play space and toy bags so they are part of our church family.

During the week there are activities and clubs for different age groups and there is a strong link to the church and local community. We invite all young people in Sudbury to join in the events and clubs happening here.

_______________________________________________________________

The term time week day activities fall into three age ranges:-

Under Fives

Daniel's Den

Daniel's Den at St. Andrews is one of the four Daniel' Den parent and toddler groups in Brent. Daniel's Den is celebrating its 18th year this November (2014). It's aim is to encourage and enrich family life by providing sessions for children to play together along with their parents, grandparents and carers with them so they can make friends in a safe environment. Each week, as well as toys, there are craft activities, singing and refreshments and we hold regular Community-based events.

Children, Parents, Volunteers and Friends at Daniel's Den

Joanna Gordon 020 8908 6986

Daniel's Den:

http://www.facebook.com/DanielsDenTogetherEveryoneAchievesMore?fref=ts

Juniors

TNG Club

Our school age children aged 7 to 11 have a club every Tuesday from 4 to 5.30pm called TNG. This stands for The Now Generation. It provides craft, games, sports and friendship, where the children are in a relaxed but monitored environment with trained staff. The children's recent feedback on TNG is 'wonderful/active/ great/good fun'. Please tell friends and neighbours with primary school aged children.

Holiday Club
YOUTH & SWAY

The 11's and over meet up on an occassional basis, around once a month for an outing, movie or to eat together, which is co-ordinated by Annie. We also belong to SWAY:-
Sudbury Wembley & Alperton Youth
which has provided youth services for over ten years in the area. SWAY is a registered youth charity set up by seven churches working together. We run holiday programmes for 8 to 18 year olds, hold youth celebrations three times a year and in the summer we camp at Soul Survivor.

Each year SWAY goes to Soul Survivor at Bath & West Showground in Somerset for 6 days Christian Camp, This year we took 7 young people and they enjoyed being with so many other young people from all over the country and abroad coming together to experience faith in a dynamic way. http://soulsurvivor.com/summer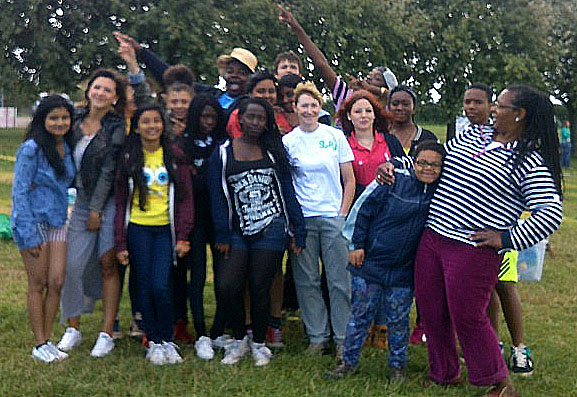 Next summer 2015 SWAY is planning to take a group of 13 to 18 year olds to Soul Survivor.
SWAY Christmas Celebrations 2014
This year SWAY are inviting our young people to
Christmas Hillsong Celebration at Wembley Arena 7pm on 21st December
and Skating at Winter Wonderland Hyde Park on Monday 22nd December
Brownies
Brownies meet from 6.15 to 7.45pm every Thursday in School Term Time in the Church Hall.
For information, please contact Linda Concannon:- 07854 087 972
Christmas 2013
Santa Rakesh made a great splash when he dropped in on the children at Daniel's Den Christmas party last year. With his elves, Pat and Jean, he delighted the children who sang Christmas songs with him and each received their present. Thanks for coming Santa Rakesh and see you again this year. Safe travels - and don't fall off any rooftops!